Sadguruji felicitated at the U.S.A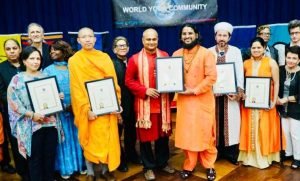 ---
His Holiness Sadguru Brahmeshanandacharya ji, the head of Shree Datta Padmanabh Peeth-Goa
Is presently at the superpower – united states of America,
Sadguruji has been bestowed upon "messenger of Love" a title obtained for the first time in the US.
"The world is clad by the fabric of affection, with peace and love as divine gifts of the creator for the well being of humanity. "The great Hermits and sages of India did penance for thousands of years in order to foresee that "Vasudhaiva Kutumbakam " a concept gifted by them would tie the whole world into one fabric of love and the whole world would live as one big family " the Swamiji quoted!
The criteria for this title being bestowed upon are the constructive contributions of the H.H. Swamiji in the fields of GURUKUL system of education in Goa, World Peace Leadership, Sanathan Dharma award recipient, Ved Pathshala, Humanitarian approach to social issues, women self-sufficiency and Empowering concepts & Vasudhaiva Kutumbakam concept.
The title was presented to the Swamiji in the United States in a joint venture organized by World Yoga Community and International Sadguru Gurukulam.
Main guests being Rev. Jagatguru Dileepkumar Thankappanji(USA),Diana Baysere,Ambassador Esai Chabhala,Dr Tania Edwards,Joanna Rick Ultik,Imam Dr Ahmed Muharram,Anaxi Tashikazu,Konjitsu Nakagaki,Sussanna Bastarica,Prem Sadashivanand,Dr Cathleen Reagan,Ben Burin,Thirakusalo Thailand ,Michelle Delafev,Mohammed Akram,Remi Alapo Garcia and others.